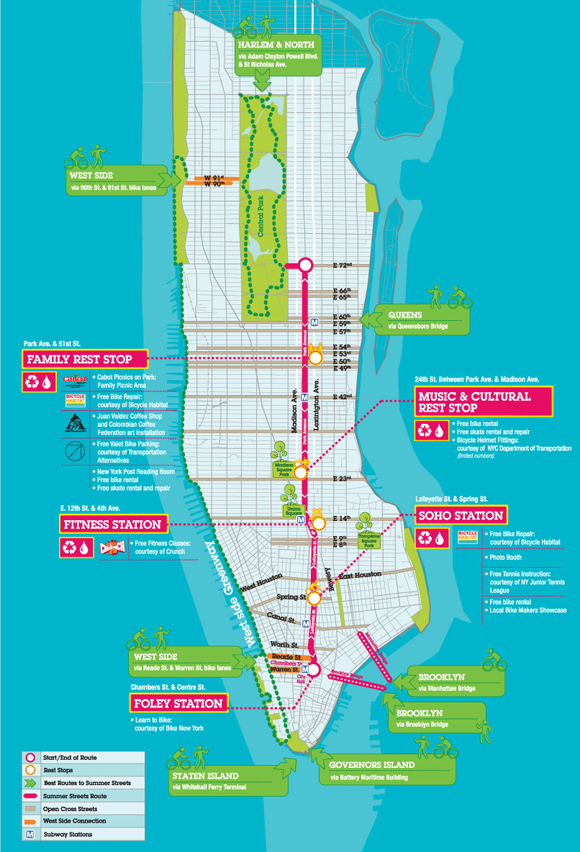 New York City is hosting
Summer Streets
again this year on August 8th, August 15th and August 22nd between 7 AM and 1 PM.
I had a chance to participate this past Saturday, August 8th. I had a lot of fun riding Park Avenue car-free (though some of the intersecting streets were open to car traffic, Park Ave itself was car-free).
There were live performances, exercise classes and even dancing. I loved the "Bollywood" class that Crunch Fitness put together. It was so nice watching people really, truly enjoying themselves on the streets of NYC.
I ran into a woman with a pair of bicycle earrings on. Very cool! I'd love a pair of bicycle earrings of my own but I haven't seen any except on her...
On my ride up Park Avenue, for the second time, I had the pleasure of riding behind a woman hauling about 60 lbs of stereo equipment pumping some great music. She had a helmet on with a bumble bee cover. I knicknamed her "Tunes Lady" and faithfully followed her until I lost her coming out of the 42nd Street tunnel around the MetLife building. She had turned the music off, there was a huge crowd and she disappeared somewhere behind me...
Summer Streets was so much fun. I plan on attending again for the next two Saturdays. If you are in the NYC area you should really stop by and check it out. There are some great activities and just being in the middle of Park Avenue not getting run over by cars and taxis is an experience in and of itself.
I personally think NYC should do this every weekend in the Spring, Summer and Fall. It would help get people up, moving and enjoying all the wonderful things this city has to offer.